.2 – 2.0 Tonne.

Intelligent Micro-controller provides precise, proportional steering, travel and load handling response.

Micro-processor based metal oxide semiconductor field effect transistor (MOSFET) for drive and lift motors.

Multi-user programmable performance increases productivity.

Toyota 6-series Electric Reach Trucks designed for the comfort and convenience of an ergonomically designed operator compartment.
1.0 – 1.8 Tonne.
The compact and powerful AC-drive motor provides smooth starts without jerky accelerator operation.
Since the AC motor has no bushes or contactors it has minimal maintenance, saving you time and money.
Power select function allows customization of load and travel.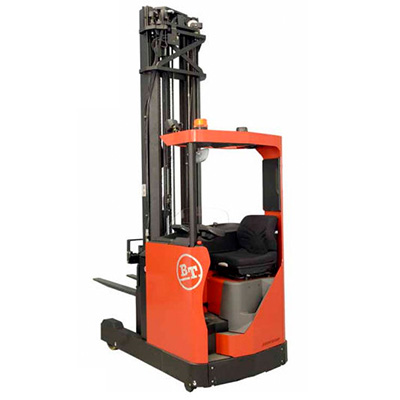 REFLEX RRM12,14 AND 16 REACH TRUCKS
AC-technology with brushless motors for high performance and low service requirements.
Very fast acceleration rate and maximum travel speed, which canbe fully realised with full load.
Electronic fork dampening for smooth operation.
BT reach trucks deliver excellent acceleration, lift and braking performance characteristics which are easy to program and control. Advanced AC power brings low operating cost and fast working cycles. A full range of truck chassis and mast configuration available, with capacites up to 2.7 tons.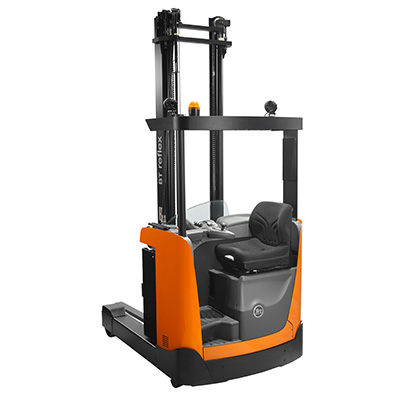 REFLEX B/E 4 REACH TRUCKS
Load capacity up to 2.5 tonnes at 600 mm load centre.
Lift heights up to 12.5 m.
Drive speed up to 14 km per hour.
Unique Transitional Lift Control.
Designed for low intensity applications the all-new BT Reflex range has standard, tilting cab, coldstore and drive-in racking versions and load capacities from 1.4 to 2.5 tons. The BT Freflex model, is suitable for four-way handling of long loads, as well as conventional pallet movement in confined spaces.